The community of Holy Annunciation Monastery lives according to its own unique, approved Typicon, which unites the spiritual tradition of Carmel with richness drawn from the Eastern and Western monastic traditions, the shared heritage of the universal Church.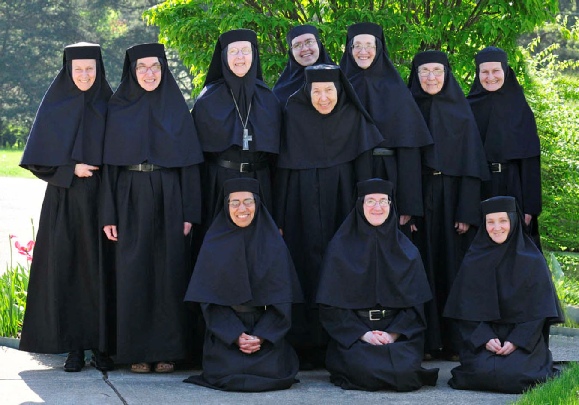 Since the first centuries of the Church, men and women have felt called to imitate Jesus, the Incarnate Word who took on the condition of a servant. They wanted to follow him by living in a particularly radical way, being united to him in the possible closest way through monastic profession. By becoming bearers of the Cross (staurophoroi), they desired to become bearers of the Spirit (pneumatophoroi), capable of endowing history with hidden fruitfulness by unceasing praise and intercession, by spiritual counsels and works of charity.
Eastern monasticism is marked by a desire to transfigure the world and life itself and always emphasized conversion, self-renunciation and compunction of heart, the quest for interior peace, ceaseless prayer, fasting and vigils, spiritual combat and silence. The monastic life was understood as offering to God ones very self and personal possessions, and living in the holy communion of the monastery or in the solitude of the hermitage. The Western monasticism since the first centuries of the Church also existed in coenobitic and eremitical traditions and in its present form was inspired above all by St. Benedict. Western monastic tradition is heir of the great number of men and women who, leaving behind life in the world, sought God and dedicated themselves to Him "preferring nothing to the love of Christ." St. Teresa of Avila together with St. Therese of the Child Jesus are among the greatest figures in the Western monasticism.
The charism of St. Teresa of Avila is fundamentally an ecclesial one and Holy Annunciation Monastery was founded by and for the Byzantine Catholic Eparchy of Passaic and the Metropolitan Church of Pittsburgh.
The place of honor and of great respect occupy for us the rules composed by the great founders of monastic life in which they intended to unfold the Gospel and to clarify its implications for daily life. Among them are the prominent figures of the Eastern and Western monasticism that include St. Pachomius the Great, St. Anthony the Great, St. Basil the Great, St. Benedict, St. Bernard as well as St. Teresa of Avila and St. Therese of Child Jesus.
Holy Annunciation Monastery
403 West County Road
Sugarloaf, PA 18249

Phone: 570-788-1205